THANK YOU for your interest in our Holy Week Craft Kit! We are very excited to be taking this Christ-centered creative journey together with you. Please scroll down for a tutorial on how to make today's craft and for additional teaching resources.
At church, on Holy Monday evening, the Orthros (Matins) service usually takes place in anticipation of the following day. So the themes mentioned on Holy Monday evening are actually the ones relevant to Holy Tuesday. The Parable of the Ten Virgins is one of them.
---
HOLY MONDAY EVENING – THE PARABLE OF THE TEN VIRGINS
Paper oil lamp
You will need:
The printed oil lamp template provided in the kit
A piece of twine or string, about 6″ long
Red, orange and yellow flame-shaped pieces – we made ours out of tulle fabric, but tissue paper or colored cellophane could work too
A pair of scissors
Tape (double-sided tape works best)
Glue stick
HOW TO MAKE THE CRAFT
Cut the parts of the paper oil-lamp out of the template.
Fold the larger shape on the dotted lines and then glue it closed as shown in the video below.
Glue the bottom part of the oil lamp onto the top part, and then glue on the handle, as shown in the video and in the photos below.
Tie the flame-shaped pieces together using the string. Thread the string through the hole in the lamp, pull down to position the flames correctly, and tape in place. Then cut off the part of the string that is not needed. You might want to place the remainder of the string in the hollow part of the lamp's bottom part, and tape it so it stays put; thus demonstrating how oil lamps actually worked.
Ready! It can be used as a visual aid to discuss the story of the day. After discussing the story, we also had an interesting time exploring oil lamps in general, and how people used them in the past.
---
ADDITIONAL RESOURCES
BIBLE READING: Matthew 25: 1-13
Printable packet
Planner, fact sheets, worksheets, and flashcards.
---
Digital activities
Animated slideshow and a variety of games.
---
Fun fact
To come up with the template design, we researched a variety of sources for examples of ancient oil lamps from around the Eastern Mediterranean, as well as for Roman and Byzantine ones. Our design was mostly inspired by a 5th-6th century Coptic lamp from Egypt, now at the Metropolitan Museum of Art.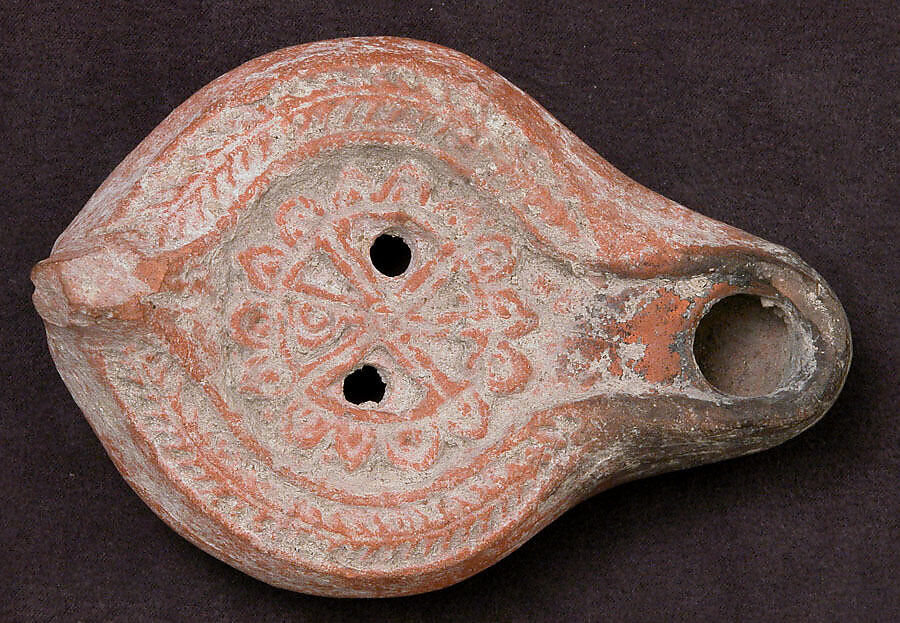 ---
BACKGROUND
---
Special thanks to Presbytera Destinie of Ascetic Life of Motherhood for exploring the kit with her sweet little children and sharing wonderful photos with us.